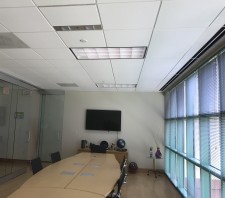 ORLANDO, Fla., January 15, 2019 (Newswire.com) - Violet Defense and LSC Technologies announced today that they have partnered to bring Violet Defense's patented UV germ-killing technology to commercial and industrial markets nationally. Violet Defense's S.A.G.E. line of products is designed to bring hospital-grade UV disinfection to healthcare facilities, as well as everyday spaces, such as athletic facilities, schools and universities, commercial office buildings and more.
LSC Technologies (LSC Tech) is a solutions-oriented technology company that is focused on developing custom installations for their clients. Their tagline, 'Connecting the Dots,' accurately depicts their approach to product development. LSC Tech identifies and brings together the most advanced technologies on the market and, through collaboration with multiple partners, develops custom solutions to common challenges faced by new and growing communities.
Violet Defense recently inked a deal to be a part of the Siemens Connect Ecosystem designed to bring together the latest technologies in smart buildings in an integrated, seamless fashion. Adding to the list of their customer segments, Violet Defense is also partnering with the Orlando Magic to install its germ-killing lights to protect players from harmful germs – the first deployment of this type of technology in the NBA.
"As the only installed version of pulsed Xenon UV disinfection, Violet Defense offers a unique value proposition for our customers to disinfect their spaces with a proven technology, but in a cost-effective package that hasn't previously been available," said Brian Stern, CEO of LSC Technologies. "Furthermore, with their ability to integrate with Siemens building automation systems, they have a way to provide a truly connected solution for automated disinfection to our clients," added Stern.
LSC Tech will serve as the master distributor of the UV technology for any commercial or industrial customers looking to incorporate this technology into their cleaning and disinfection protocols, including the ability to integrate the Violet Defense technology with building automation platforms such as Siemens. LSC Tech will particularly be focusing on professional and amateur athletics venues and organizations that want to protect their players, coaches and fans; healthcare facilities that would like an alternative to the extremely costly UV products currently on the market; or businesses that would like to incorporate the future of automated disinfection into their commercial office buildings to keep employees healthy and productive.
"We are enthusiastic about this new partnership with LSC Tech for the next phase of our commercialization journey," said Terrance Berland, CEO for Violet Defense. "Their forward-thinking approach to providing integrated solutions for their customers, as well as their extensive network, will elevate our ability to bring clinical-level disinfection to the places that need it most," added Berland.
###
About Violet Defense
Founded in 2012, Violet Defense is on a journey to redefine the meaning of clean and find new ways to protect people from harmful germs that have grown resistant to traditional forms of cleaning and disinfecting. Its patented approach uses the proven power of germ-killing light, including UV and violet-blue light, to fight the war against bacteria, viruses, fungi, and bacterial spores. Its patented technology miniaturizes the deployment of germ-killing light to integrate into almost any product or environment. For more information on Violet Defense and the S.A.G.E. UV anti-microbial line, visit www.violetdefense.com.
About LSC Technologies
LSC Technologies (LSC Tech) brings innovative products to market in the lighting, controls, and security space. We were founded to provide communities with technological solutions to problems including safety and communication. Our service offerings include product management, design, distribution, integration, and logistic services. Our team of industry experts are also able to develop unique and custom solutions depending on our customer's needs. LSC Tech is pioneering groundbreaking solutions in technology that we believe will set the standard for the future interconnectedness of our communities.
Media Contact for Violet Defense:
Jessica Jones, Vice President of Marketing
Violet Defense
407.433.1104, x1002
jjones@violetdefense.com
Media Contact for LSC Technologies:
Melody Flores, Marketing Manager
LSC Technologies
877.595.4769, x107
melody@ledsupplyco.com
Source: Violet Defense
Share: